Battery storage
Developing a large scale energy storage capability will help to resolve the challenge of the intermittency of renewable generation. At InterGen we're working on this right now, with planning consent for battery storage facilities in the UK of up to 2GWh, which are amongst the largest battery storage developments in the world.

These projects mark InterGen as a global leader in this kind of technology deployment. The facilities will use proven lithium-ion technology which has zero emissions, has superior flexibility, and will complement the increasing amounts of renewable generation in the UK.

In Essex, our energy storage project at London Gateway Port of up to 1.3GWh received planning permission in November 2020, and is large enough to provide power for 320,000 homes. At Spalding, we have consent to develop up to 700MWh of storage capability, adjacent to our existing operational CCGT and OCGT plants. Both of these developments are world-class in terms of size. It's all part of our goal to support the transition to low carbon generation through the provision of flexible capacity.
About the technology
The UK is one of the world's most advanced markets for large scale battery storage, and grid scale battery storage is growing rapidly thanks to falling capital costs and rising demand for the range of flexible services that storage provides.
As well as being emission free and ensuring security of supply by integrating intermittent renewables into National Grid system services, battery storage can secure revenue through energy arbitrage and by providing ancillary support such as peaking services and frequency response.
The lithium-ion batteries used at scale are, in essence, just the same as those we use in millions of consumer devices every day. These batteries use a cathode (positive electrode), an anode (negative electrode), and an electrolyte as the conductor.
When the cell is charging up, ions travel from cathode to anode until the anode is full and the battery is charged. On discharge, the ions travel back into the cathode through the electrolyte, via an external circuit, producing electricity.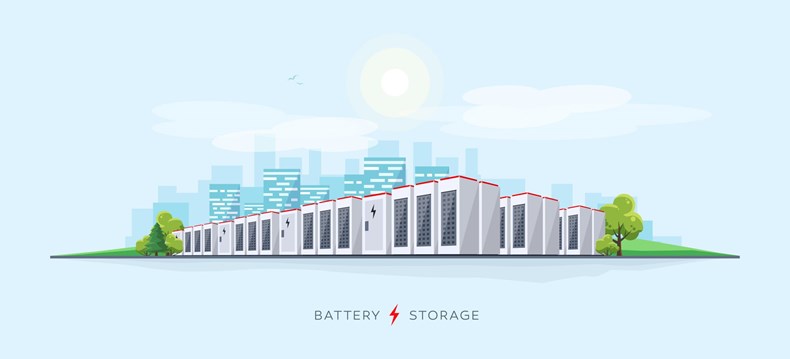 Artists impression of a large scale battery storage project.
Find out more about InterGen's battery development projects here
Stats
500 Capacity (MW)
2GWh Total size of battery development projects
0.5M Homes to be powered by batteries